| tiCC omni-channel intelligent Contact Center
tiCC - tsti intelligent Contact Center is the contact center solution developed by TSTI. TSTI has more than twenty years' experience in the customer service field and the development of tiCC is based on it.
The functionality of tiCC is totally fulfill the contact center, including inbound call, outbound call, system monitoring and supervisor administration. The communication modalities, between customer and contact center agent, are including voice call, web chat, social media chat, e-mail, and web video. The customer can use computer, telephone, cell phone and tablet to make communication using their favorite social media, for example LINE, FB Messenger or others.
Furthermore, the tiCC also integrated chat bot to provide smart service. Customer can self-service themselves through chat bot to solve their problem without real agent's help. This kind of services can not only reduce the usage of man power, but also increase the service level for customer.
Major Features of tiCC:
1. Omni Channel and Intelligent Service
The communication modalities supported by tiCC are voice call, web chat, Line, Facebook Messenger, wechat, skype, fax, email and web video.
All kinds of media including voice, text, video, file is supported by tiCC.
The chat bot for self-service is also included.

2. Uniform routing for all communication channel
Uniform routing for all communication channel
In general, the traditional multi-media contact center is composed of multi stand along islands. Each channel has their own routing process, that means each agent can only support one channel. It makes lots of idle time of agents and the supervisor is very difficult to manage.
tiCC provides uniform routing for all communication channel, it means that the agent can support multi-channel. The contribution of agent is enlarged, and customer service level is improved.

3. Uniform User Interface for Customer Service
System provides a unified user interface, regardless of customer service channels for any service, are only required to operate a check-in interface, reduce learning costs, and speed up the service.

4. Omni-channel - Seamless integration for customer contact history
All contact records for each customer using different kinds of communication channel can be aggregated into a uniform contact history. When agent taking the customer inbound call, the system will provide the contact history for the customer, the contact history including channel type, service content, and agent id. The detail information about each contact experience is also provided, which including conversation recording, text chat history and video recording.

5. Social Media User Binding
Screen popup is a key procedure to improve the service level for each customer, which means the agent can understand the customer at the first contact. In traditional contact center, the system use the caller id to engage other customer information. For multi-media, the reference id is social media id. The system provides the standard procedure for customer information and social media id biding. After the customer finish this procedure, the contact center can provide the same level of customer service with traditional voice call.

6. Realtime monitoring and management for supervisor
The system provides real-time monitoring functionalities. The supervisor can use the management user interface to monitor the status and duration of each agent. The system can manage different level system warning, when it is out of the limitation, the system will provide warning automatically. Based on all the system information, the supervisor can monitor and give consult for the agent.

7. Module design, Easy for customization and system expansion
The system design is modulization, the expansion of system can base on customer's requirement. It is not only fulfilling customer's current requirement but also build a good foundation for future expansion.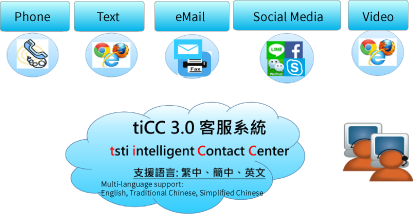 tiCC omni-channel intelligent Contact Center for all walks of industry, such as finance, insurance, transportation, tourism, etc. Including:
Telephone in-line service:Provide customer service center phone line service, including IVR self-service, private phone service functions.
Phone Banking Services:Provide online wealth management services, including various financial transactions, identity verification, charge release, risk notification, transaction reporting and other functions.
Voice outbound interview:Provide automatic voice dialing capabilities, and integration of intelligent robots and customers with intelligent "conversation", customer interviews, satisfaction surveys, various care services.
Telephone Outbound Marketing:Call Center Outbound Calling, Call Out, Transfer, Blacklist Management, Reassignment, Follow Up, etc.
Social Media Services:Provide social media access services, push services, online repair can be implemented, the information consultation, push the care message, push advertising and more.
Online video service :Provide web-based video services, can provide various industries video customer service functions, such as the financial industry, such as online account opening business.
Online dispatch service:To provide on-line service, front-line customer service cannot be completed operations can be directly transferred to second-tier staff, while providing dispatch orders to send, the progress of inquiry, late reminders and other functions.
Online fax service:Provide customer service staff directly from the customer interface to send and receive faxes, fax machine without having to work or open fax interface operations.
| Item | Benefits |
| --- | --- |
| Provide a good customer experience, improve customer satisfaction | Customer satisfaction is an important indicator of customer service center, with ticc customer service, Customer contact customer service center is no longer limited to the phone, use the common communication software can contact customer service. Voice self-service, text chat self-service, intelligent robot services, enabling customers to quickly obtain the information or services they need, even during unattended hours. The seamless integration of channel services, allowing customers to use their most convenient channels and ways to contact customer service anytime, anywhere, you can get a consistent good experience. |
| Enhance the efficiency of customer service staff and reduce the labor costs of customer service centers | In the traditional customer service center, customer service staff can only answer a call at the same time, service a guest, with tiCC, customer service staff can handle multiple guest text channels into the line at the same time, and through the system commonly used language, commonly used web links, all kinds of description pictures, file transfer, rapid response to customer issues, improve service speed. Besides, ticc provide a unified service interface, the channels include telephone, social media, email, fax can be done in an interface, and customer service staff can focus on customer service content without the need to open more than one system operation, can speed up operations, and improve work efficiency. |
| Both service and profit taking into account, improve customer service center revenue | tiCC Providing the function of co-marketing calls, customer service staff in the process of customer service, ending customer demand, resulting in a list of customers willingness to buy, to assist sales unit operations. tiCC also provides independent outbound sales force module, sales staff through the system functions to do online sales operations, providing customer service center profit. |
| Virtualization、high availability,Reduce maintenance manpower | tiCC can build with virtualization to reduce the number of devices and maintain manpower. System provides high availability architecture, the main function modules can provide active-active dual hot backup operation, the system is not easy to malfunction, a single point of anomaly does not affect the operation of the system, with alarm mechanism, can save maintenance personnel and reduce personnel cost. |